Our Services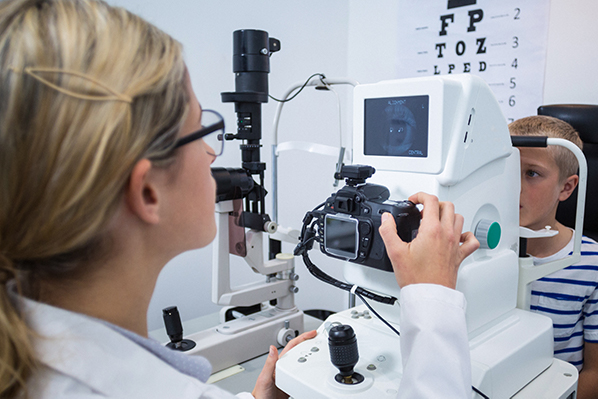 As a fully licensed and equipped optometric practice, Eye Health Solutions offers a complete range of eye care services to all our patients.
Whether the eye care issue involves correcting refractive errors with eyeglass or contact lenses, or helping a student find amazing frames, or diagnosing/treating eye conditions and diseases, our team will identify and implement the best eye care solutions for you.
Eye Health Evaluation
With our years of experience in diagnosing and treating typical vision disorders such as nearsightedness, farsightedness, amblyopia, presbyopia, cataracts, macular degeneration and diabetic retinopathy, Dr Lily Mark-Maasdam and Dr Jason Maasdam and their team are equipped to provide appropriate therapeutic medical eye care.
At the same time, the Eye Health Solutions team offers a wide array of high quality eye care products at reasonable prices. Our patients never pay too much for the best quality in eyeglasses, contact lenses, sunglasses, progressive and bifocal lenses, and outstanding service.
Treatment of Eye Disease
If you are diagnosed with an eye disease, you want the best treatment available to get your eyes healthy again. At Eye Health Solutions, we stay current with best treatment practices. Based on your diagnosis, we may recommend a wide variety of approaches, including improved nutrition, prescription medicines, therapy and vision exercises, or medical procedures.
Good Eyecare Begins With A Yearly Eye Exam!
Although many do not realize it, the best way to protect your vision is with a yearly eye checkup. Even a basic eye exam can instantly detect many health-threatening conditions, such as tumors, vascular irregularities, and diabetes-related injury to the retina. At Eye Health Solutions, that basic checkup is brief and painless.
Our eye examinations start with a warm greeting and a technician will then use state of the art instruments to gather information about your eyes. We will sometimes put dilating drops in before you see the doctor. The dilating drops can make you a little sensitive to light and slightly blurry. We find that most people can drive comfortably as long as they have a pair of sunglasses. We provide some if you forget yours. Once one of doctors sees you we will address any specific issues you are having. The two parts to our examinations include a precise determination of your glasses and/or contact lens prescription for the clearest possible vision. The doctor will then perform a detailed health examination of the eye and surrounding tissues. The results will be explained thoroughly in plain, easy to understand, non-technical language. All questions will then be answered. At that point you will be able to select new glasses with the help of one our expert opticians or if you don't require anything your next eye health appointment will be set before you leave. All our patients have access to our emergency number should they need one of the doctors on a weekend or evening.
Eye emergencies are something that can happen to anyone. When it does you want an eye doctor to be the one seeing you. Our doctors provide care after hours and on weekends for those that need it. Our local emergency rooms give excellent care but are not the optimal place to be for an eye emergency. Examples of emergencies would be something in your eye, eye infections (pink eye), sudden loss of vision, significant eye pain, or new flashes and floaters.
Retinal photography is one of the many technologies we use to monitor the health of the eye. The retina is the thin lining in the back of the eye that light focuses on to create an image. Damage to the retina will result in loss of vision. Diseases such as diabetes, high blood pressure, glaucoma, macular degeneration, and cancer can be found in the retina. One of our technicians or doctors will take a photograph of the retina, if needed, and then the results will be shown and explained in an easy to understand way.
We also take screening retinal photographs, especially of children. Kids are often a bit nervous and wiggly so they have difficulty sitting still for the doctor to look carefully at their retina during the exam. The speed of the camera allows the doctor to get a much better look and is easier and less stressful on the kids.
Glaucoma is a blinding eye disease that has no symptoms until it is too late. We perform a couple tests on every patient during every exam looking for this silent blinding disease. It includes checking your pressure. We have several ways to do this so make sure to let our technician know if the "air puff" machine creates anxiety for you and we can check it another way. Our office has state of the art retinal and optic nerve scanning along with visual field testing. It is the same instrumentation that would be used in a large university setting for their glaucoma patients. Our doctors are experts in this disease and work closely with surgeons in the few cases that need to go on for surgical consultation.